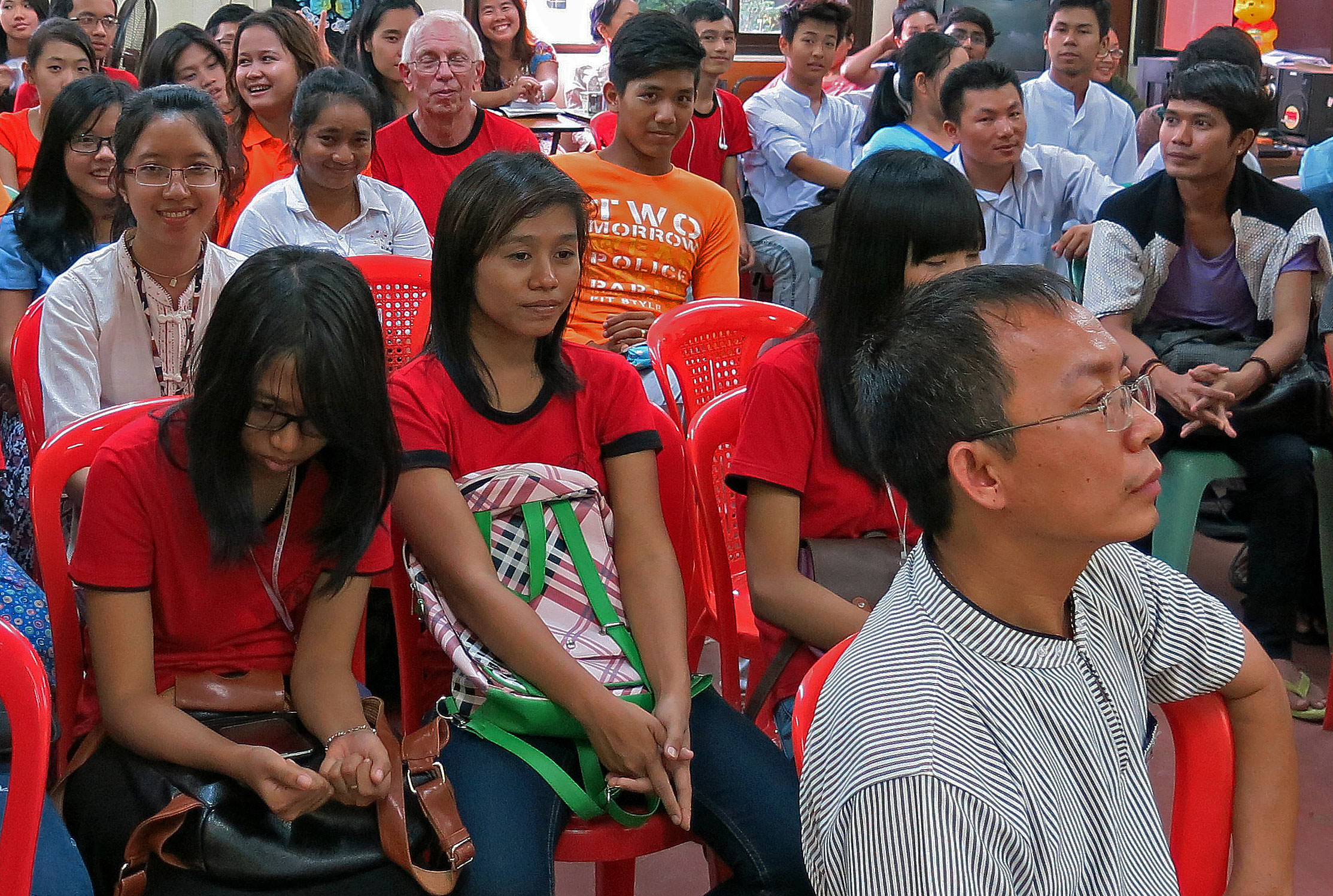 Khoo Kyaw San at presentation by the students at Cetana English Proficiency Center in Yangon
Dear honorable donors,
I am Khoo Kyaw San, executive director of Cetana Educational Foundation, Myanmar. I have reasons to be proud of Cetana as its executive director.
Cetana Educational Foundation, Myanmar, plays a crucial part in helping develop future leaders in Myanmar. Our high quality English language classes are for students who may be priced out of other programs. We narrow the education gap between the minority rich and the majority middle and lower class people by creating access to educational opportunities.
We also promote English language education for people in under-developed and remote areas through our regional English language learning center in Kyaing Tong. Our plans call for starting English language centers in other under-developed and remote areas.
Since 2010, Myanmar has transformed from a military junta-ruled country to a democratic one. With the change, there has been influx of foreign investments and foreign companies. As a consequence, among working people, fluency in English has become a gateway to jobs with international organizations.
In response to the obvious need, our new Cetana Career Advancement Academy will conduct English language courses such as English at the work place, business English for staff of international organizations, including NGOs, and for tour guides, hotel staff, television presenters and bank staff.
We aim to launch the Academy in the early 2015. On behalf of Cetana's activities in Myanmar, I would like to request your help as we fashion an Academy that offers courses that help working people gain the knowledge they need to participate in the international arena. You may rest assured that your support will make a huge difference in the lives of many people in Myanmar.
We are very grateful for your consideration and kindness.
Best regards,
Khoo Kyaw San