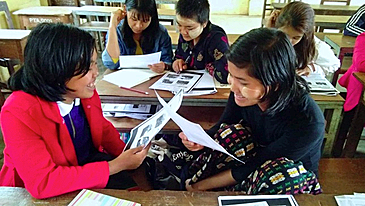 A Kanpelet program of classes for teachers, university distance learning students, and children from Metta Geha Children's Home has been added to the Kanpelet Learning Center.  In this, the third year of a summer intensive training course, distance-learning students were added to the program.  
With no other opportunity for systematic continuing study and practice for the teachers and students, the need is met by these classes taught by Shing Ling Tang, a skilled teacher, from Mindat, Chin State. Special classes for the children and high school graduates at the Metta Geha Children's Home provides an opportunity for these young people to acquire English language skills that can be useful to them in finding employment in the growing tourist industry in Kanpelet. Metta Partners in Myanmar, a US organization, cares for the Metta Geha home and has been a partner with Cetana in the ongoing programs in Kanpelet.
 It has been heartening to see the progress of the teachers in their English skills over the years and we are delighted to have been able to broaden the program to include young people in the village.