Dear Friend of Cetana:
Do you believe that education is a right every child deserves?
Education, with emphasis on English language training, is what Cetana is all about—and has been about for over 20 years. Cetana needs your financial support to help the youth of Myanmar. Your contribution may be the only hope these young people have for advanced education and a promising future.
For decades Myanmar has been beset by political repression, violence, economic exploitation, and poverty. The educational system, once the best in Asia, has fallen into dysfunction. The country's youth deserve better. The time has come when they, like our children, can develop their talents, improve their living conditions, serve their communities and, eventually, help build a foundation for peace in their country.
With today's election, tentative steps toward democracy continue. Another key to democratic reform, especially for a country that has been isolated for so long, is the ability to participate in the world community. With a national language that is not understood elsewhere, plus 135 ethnic languages and dialects, the English language is the path to the international community. English proficiency provides educational opportunities, access to print and electronic publications, and conversation with the world.
Coupled with the ability to think critically (as opposed to rote learning and thinking), English fluency is essential for progress toward a revitalized civil society.
You can help make progress happen by supporting Cetana's work with a contribution today. Our learning centers serve students of meager to modest means, from seven year olds to young adults. Your gift will
—enable them to learn English and develop critical thinking skills
—give them the precious books that they have yearned to read and access to computer technology
—prepare them for participation in a new democratic Myanmar 
—provide supplemental scholarships for advanced study abroad
Cetana learning centers are now filled with young learners whose future will be brighter because of you. We owe this generation a chance. Please make a donation to our Annual Appeal today.
Sincerely,
Chenault Spence, President of the Cetana Board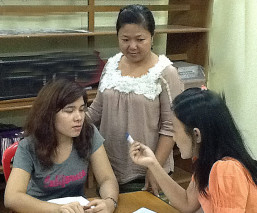 Academy Director, Nang Ji with Business English Class students